Esta documentación está extraída de la oficial de Odoo: https://www.odoo.com/documentation/14.0/es/applications/finance/accounting/receivables/customer_invoices/payment_terms.html
NOTA: Antes que nada decir que esta explicación es sobre el módulo estándar de Odoo, hay una extensión para este módulo con más posibilidades (fijar días de vacaciones, varios días de pago separados por comas, etc.) que está en la OCA en el paquete account-payment (este enlace https://github.com/OCA/account-payment) y que se llama account_payment_term_extension . Es muy recomendable instalarlo.
Plazos de pago y planes de cuotas
Payment Terms specify all the conditions under which a sale is paid, mostly to ensure customers pay their invoices correctly and on time.
Payment Terms can be applied to sales orders, customer invoices, supplier bills, and contacts. These conditions cover:
La fecha de vencimiento
Algunos descuentos
Cualquier otra condición de pago
Defining Payment Terms automatically calculates the payments" due dates. This is particularly helpful for managing installment plans.
Un plan de cuotas permite a los clientes pagar una factura en partes con los importes y fechas definidas previamente por el proveedor.
Ejemplos de plazos de pago:
Pago inmediatoEl pago completo vence a la fecha de expedición de la factura.
15 Days (or Net 15)The full payment is due 15 days after the invoice date.
21 MFIThe full payment is due by the 21st of the month following the invoice date.
2% 10, Net 30 EOM2% cash discount if the payment is received within ten days. Otherwise, the full payment is due at the end of the month following the invoice date.
Nota
Payment terms are not to be confused with down payment invoices. If, for a specific order, you issue several invoices to your customer, that is neither a payment term nor an installment plan, but an invoicing policy.
Nota
This document is about the Payment Terms feature, not Terms & Conditions.
Configuración
Go to Accounting ‣ Configuration ‣ Payment Terms and click on Create.
The Description on the Invoice is the text displayed on the document (sale order, invoice, etc.).
In the Terms section, you can add a set of rules, called terms, to define what needs to be paid and by which due date.
To add a term, click on Add a line, and define its Type, Value, and Due Date Computation.
Importante
Los plazos de calculan en el orden en que se han configurado.
Siempre se debe usar saldo para la última línea.
In the following example, 30% is due on the day of issuance, and the balance is due at the end of the following month.

Usar Términos de Pago
Payment Terms can be defined in the Due Date field, with the Terms drop-down list, on:
PresupuestosTo set specific payment terms automatically on all invoices generated from a quotation.
Facturas de clienteTo set specific payment terms on an invoice.
Facturas de proveedorTo set specific payment terms on a bill. This is mostly useful when you need to manage vendor terms with several installments. Otherwise, setting the Due Date is enough.
Truco
You can also define a Due Date manually. If Payment Terms are already defined, empty the field so you can select a date.
Payment Terms can be defined with the Payment Terms field on:
ContactosTo set specific payment terms automatically on new sales orders, invoices, and bills of a contact. This can be modified in the contact's Form View, under the Sales & Purchase tab.
Asientos contables
Invoices with specific Payment Terms generate different Journal Entries, with one Journal Item for every computed Due Date.
This makes for easier Follow-ups and Reconciliation since Odoo takes each due date into account, rather than just the balance due date. It also helps to get an accurate Aged Receivable report.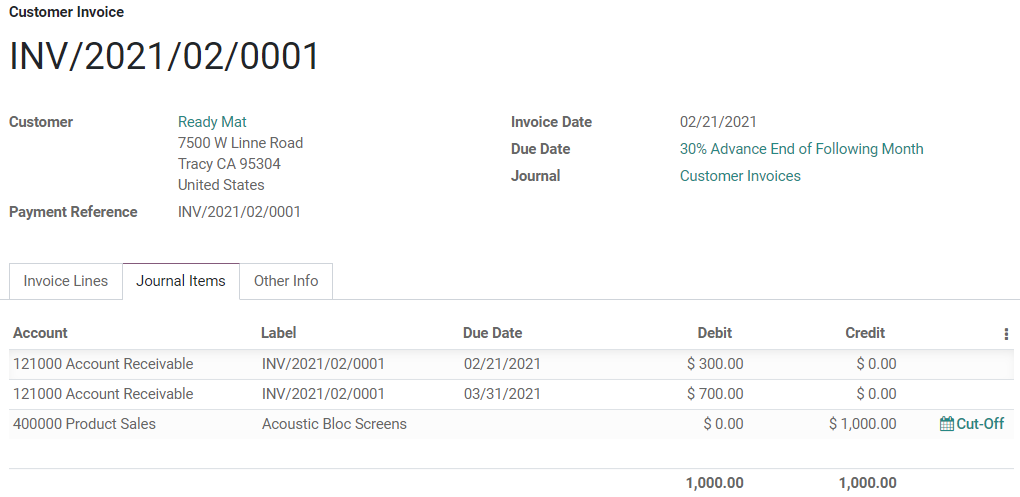 In this example, an invoice of $1000 has been issued with the following payment terms: 30% is due on the day of issuance, and the balance is due at the end of the following month.
Cuenta
Fecha vencimiento
Debe
Haber
Cuenta a cobrar
21 Febrero
300
Cuenta a cobrar
31 Marzo
700
Product Sales
1000
Los 1000$ cargados en Cuentas a Cobrar se dividen en 2 apuntes contables diferentes. Ambos tienen su propia fecha de vencimiento.